Rod grew up surrounded by mineral collecting localities. His sixteenth birthday present was a trip to the Bancroft Gemboree. Helen grew up loving dinosaurs and wondering (when looking at the Victoria rock shop) how anyone could make a living selling rocks.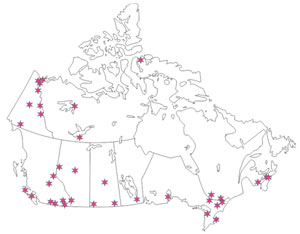 By 1970 both Rod and Helen were taking geology at the University of Toronto, collecting minerals and fossils on the weekend. On class field trips other students would see Rod's crystals and ask: "Where'd you get those?" "Over there." "Can I buy some?" "Sure." Neither Rod nor Helen knew they were looking into their future.
Rod and Helen married and moved to Edmonton in 1974, for Helen's graduate work. Rod wanted to run his own business, collecting and selling Canadian mineral specimens, so he formed a partnership with John Gorham, another friend from U of T, and by 1975 they were mounting field trips to BC, Saskatchewan, Manitoba, Ontario, Yukon and the Northwest Territories.
John began farming in 1980, so Rod and Helen formed a new partnership. In 1988 they incorporated as Tysons' Fine Minerals Inc. and with help from John they collected minerals from Vancouver Island to Baffin Island and continued to sell minerals, lapidary work by Ken Eisenbarth, and stone bead jewellery by Helen.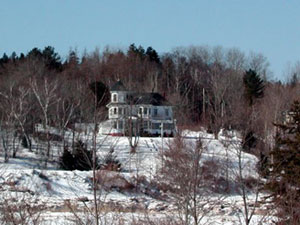 By 2006, the tar sands boom in Fort McMurray was changing Edmonton. Renting Tysons' warehouse cost 50% more each year; skilled labour for small jobs was difficult to find. Housing prices soared and a house that didn't sell in a week had something wrong with it. But Rod and Helen owned a home that they'd worked on for twenty-two years.
Collecting zeolites in Parrsboro, Nova Scotia always had seemed an exciting idea. Now it seemed possible.
By January, 2007 Rod was looking at housing - and weather - along the north shore of the Bay of Fundy. In three days he found a ship captain's home, built in the 1890's on an acre of land overlooking the tidal Parrsboro River. ("It has a turret! And room for a store. And the winters aren't bad - compared to Edmonton.") By May, Rod and Helen were camped in the dooryard, watching renovations progress on their new home.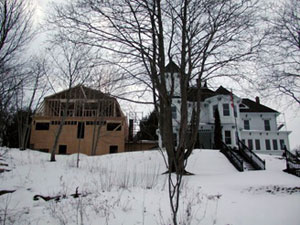 Helen opened Tysons' retail store in July, while Rod spent that summer working as a geologist in B.C. (paying for the renovations). It was the first time in thirty-two years that he hadn't mounted his own summer field projects; it would be another three years until he spent a full summer in Parrsboro.
And there was a new warehouse to build, beginning in November, 2007 and finishing in May, 2008, just in time for a trailer with the contents of the Edmonton warehouse to arrive. The entire move took one year and two semi-trailers but Tysons' Fine Minerals Inc. was settled in Nova Scotia.
Nova Scotia has a long history of mining and there are many possibilities for mineral collecting here. Tysons' early projects have been short trips but the long-term goal is the same as it was in Edmonton: develop claims and expand the market for local minerals.
Edmonton is a vibrant city full of possibilities but working in a 120-year-old home, watching the huge tides of Fundy, while bald eagles, herons and the occasional snowy egret hunt in the tidal flats - it's hard to imagine being anywhere else.