Contact Us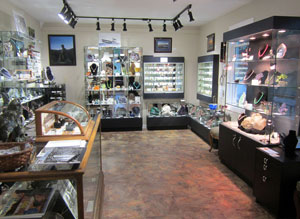 Tysons' Fine Minerals Inc. is located in the town of Parrsboro, Nova Scotia, Canada, along the scenic north shore of the world famous Bay of Fundy.
Payment
We accept Visa, Mastercard and American Express credit cards (no debit).
Please contact us for details, plus PayPal or other payment options.
Shipping
After payment is received, we will ship anywhere in the world that is serviced by Canada Post, UPS or FedEx.
Please contact us for a detailed quote.
Returns
Within 30 days of the date on your invoice
you may return items--for any reason whatsoever--provided:
they are in the condition in which they were received
you provide photographs if your shipment was damaged (preferably digital images you can e-mail)
the goods are carefully packed (preferably in their original box & wrappings)
you quote your invoice number (we will have the details on record)
Please e-mail us before returning items
.
Thank you.
Services
Did you know ...?
Tysons' will do custom cutting and polishing for you
we can help you design your own special piece of stone bead jewellery (either in our store or on-line) using our extensive collection of beads and findings, custom pieces, or items of your own
when you're in Parrsboro, we can help you identify what you have collected
See below for our contact information.
Tel:
1-902-728-8364/TFMI
Fax:
1-902-728-3399
Email:
info@tysonsfineminerals.com
Tysons' Fine Minerals
114 Lamb's Hill Road (PO Box 634)
Parrsboro, Nova Scotia
Canada B0M 1S0
View Larger Map